If you want to achieve maximum security, you can additionally encrypt your data using TrueCrypt.
If you want to synchronize a TrueCrypt container, you need to install our client. Now create a new library and sync it with the computer: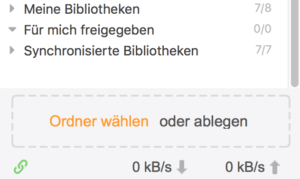 Click on "Choose folder" and then enter the file path of the container. In addition, you now can specify a password, so that the library will be end-to-end encrypted.
In order to avoid problems with the synchronization, the following settings must be made in the client: