Your Secure Cloud has no limit for the number of connected devices with an account. You can connect as many devices as you need.
Show an overview of all devices
An overview of your connected clients can be found in the web interface under the menu item "Devices":

Remove a device
If you would like to disconnect a device from synchronization, click on the trash can icon after the "Last access" column.
The following window appears: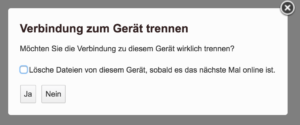 If you choose the "Delete files from this device the next time it's online" option, all synced data on the device will be removed. This does not affect the files in the cloud. This option is helpful if you have lost your device.