Sometimes you may have trouble syncing a folder. Read here, what you can do about it.
Below is a list of various errors. Scroll to the point that applies to you. Basically for every problem, a restart of the client / PC is recommended.
The synchronization breaks again and again
If the very first synchronization fails, you should check if any of the following options apply to you:
Restart:Restart our software, alternatively you can also restart your PC.
Standby mode – The standby mode of your PC can interrupt the upload process when you are not working on the computer.
Antivirus Protection – You can test your AntiVirus program to test whether it blocks the connection to us.
Proxy server – If you use a proxy server in your network, you first have to configure it manually in the settings of our client.
Firewall – Another reason may be the firewall, which can block the access to our servers. To allow this, you should allow a rule for incoming and outgoing SSL connections on port 443 TCP to the host name login.yoursecurecloud.de.
If you synchronize network drives with our systems, you must enable the options "Do not disconnect a library despite a local error" and "Do not disconnect a library despite a server error" in the client's settings.

Basically, we recommend that you save the data locally (and not on network / external drives) for better performance.
I see an exclamation point in my folders
If you see an

or  

instead of a green icon, you can try the following to restore synchronization:
1. Restart our client by stopping and restarting it. Alternatively restart the PC.
2. If the problem persists, try terminating synchronization and reconnecting. To do this, right-click over the affected library in our client and select the option "Disconnect":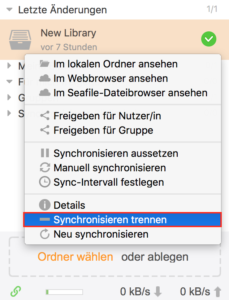 3. Now click on the name of the library again and select the option "Download and synchronize":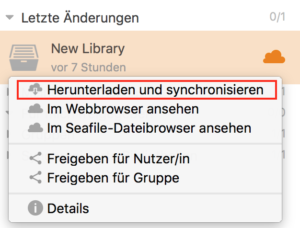 4. Here you have to click on the orange text "Synchronize with existing folder":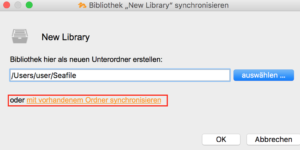 5. Finally, be sure to specify the correct folder path of the original folder on your machine: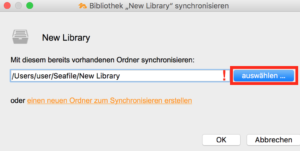 After a short while the symbol should turn green again. It can happen that in the meantime another user changed a file. If this is the case, conflict files are created automatically. For more information, take a look at this article: What happens if multiple people work on a file at the same time?
If the problems persist, please contact our support at: support@yoursecurecloud.de
Collect log files and send them to support
If the mentioned methods do not help, you should collect the client's log files and send them to our support.
1. Depending on your operating system, open the menu of our software and select the option "Open log folder":
Under Windows:                                   Under macOS: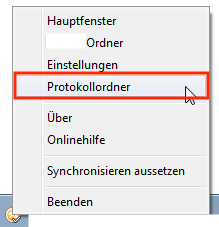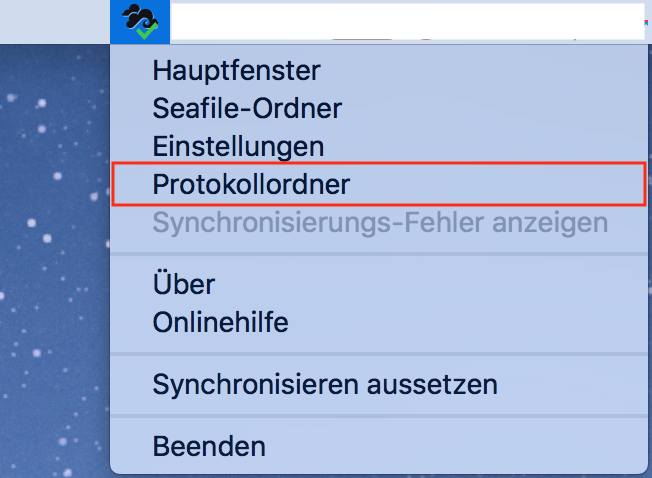 2. The window with the required files opens. You can send us all files directly by email to support@yoursecurecloud.de.
If the files are too large, there is also the possibility that they will be packed into a ZIP package. To do this, select all the files, then right-click on them and select "Send to" and "ZIP-compressed folder":
Windows:                                                                                                      macOS: